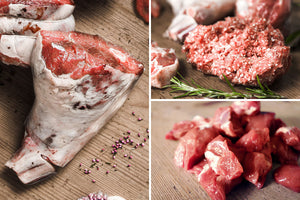 Half Lamb - Minced/Diced
Regular price £80.00 Sale
A variation on the Half Lamb, where it is butchered into packs of highest quality minced and diced lamb plus a roasting joint. Ideal for pies, curries and stews - lean and incredibly flavourful. More about our half lamb - minced/diced
Our free range lamb comes straight from the hill, where they are ethically raised and naturally farmed on a diet of heather, berries, and wild grasses. This gives the meat a wonderful flavour, that beats grass fed lamb hands-down.
Our lamb is hung for 10-14 days, then expertly butchered by the award-winning Forsyth's of Peebles. The cuts are fresh and are individually vacuum packed and labelled before being carefully packaged in our reusable and environmentally friendly wool-insulated boxes.
Free up one drawer of a standard fridge/freezer to fit it all in!
Approximate weight: 5kgs.